Fist Pump Friday: I Love You Like A Blogger Roundup – 1/11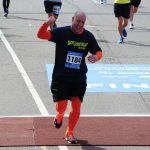 It may be the weekend, but I'm really looking forward to Monday.  I have a date with my wife on Monday that cost us $100 a ticket to go out to eat. You might be confused at this point, since dropping $200 on dinner doesn't sound like the home cooking, frugal, hate to go out to eat guy I normally portray myself as.  The thing is, this isn't just any meal, it's a 5 course gourmet dinner with wine pairing.  It's food I can't make, and wine I would never pay the price per bottle for. It's an experience, and it's a night out with my wife.  It fits the perfect description of money well spent to me.
Fist pump for date night with my wife, and for my favorite posts of the week!
Posts That Make Me Fist Pump
Article was originally posted at : https://www.enemyofdebt.com/fist-pump-friday-i-love-you-like-a-blogger-roundup-1-11/