Fist Pump Friday: I Love You Like A Blogger Roundup – 4/12/2019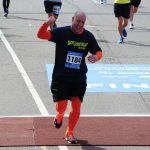 On Monday temperatures soared into the 70's here in Minnesota. Wednesday we got punched in the face with a major winter storm that dumped a foot of snow in some areas. Where I live in Southeastern Minnesota we got 5 inches of snow, sleet, rain, and a thunderstorm that shook my house early Thursday morning. We're less than half an inch away of this being officially the snowiest winter ever recorded. I'm so ready for Spring. So. Ready.
To try to get my mind off of things, let's fist pump the best five articles I read this week!
Posts That Make Me Fist Pump
Article was originally posted at : https://www.enemyofdebt.com/fist-pump-friday-i-love-you-like-a-blogger-roundup-4-12-2019/