Home prices dropping: 10 markets where you can save on a home purchase [INFOGRAPHIC]
Buyers can benefit from home prices dropping
Aiming to be a home buyer? Things are looking up. Mortgage interest rates remain relatively low. Home supply is increasing. The unemployment rate is down. Wages are strong. Plus, you can now benefit from home prices dropping.
Indeed, new data show that prices are falling in several markets. Smart shoppers who can afford to buy should take advantage of all these factors and claim a home sooner versus later.
Learn about pricing trends in your desired area. You may find that home prices dropping is a phenomenon that has come to your neighborhood, too.
Ready to buy a home? Start here. (Apr 4th, 2019)
What the research found
A new report by Redfin reveals that, as of mid-February:
Over one in five homes for sale saw prices drop. That's the largest February rate drop in at least a decade.
The share of homes for sale with price drops has kicked off 2019 at a much higher level than the past few years.
Some markets have seen home prices dropping in as many as one in three homes for sale.
The top 10 large markets with the largest share of home prices dropping are detailed in the following infographic.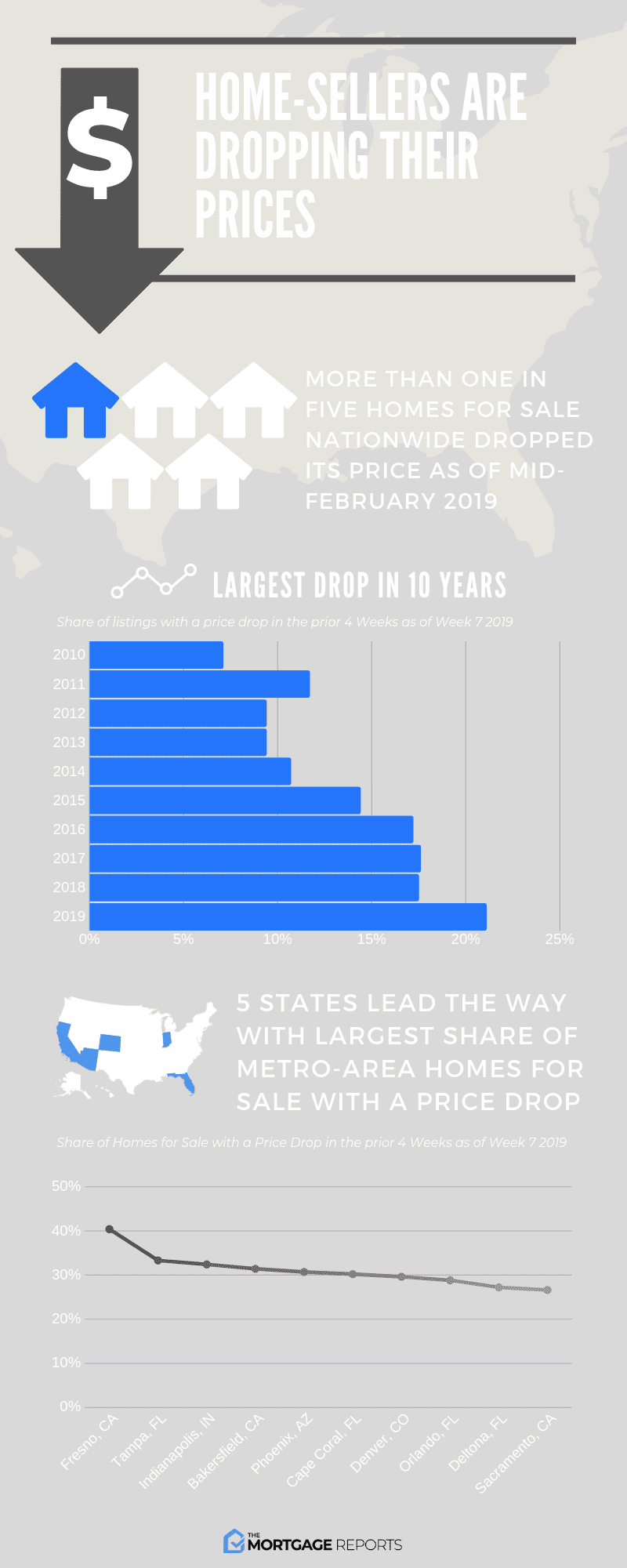 Decoding these findings
Ask the experts and they'll likely tell you the same thing: that home prices dropping in these and other areas isn't that surprising.
"We looked at our year-end median sales price data. And we found that these 10 metro areas were reaching new peak prices in 2018," says ATTOM Data Solutions chief product officer Todd Teta. "For instance, Denver, Indianapolis, Sacramento and Tampa all reached peak prices in 2018, going as far back to 2005. The other six markets may not have reached new peaks in 2018."
Hence, "it doesn't really come as a surprise that listing prices had to come down a bit," he adds. "Sellers in those markets were also seeing some of the greatest gains in 2018. That makes those markets more susceptible to having to shift."
Daryl Fairweather is Redfin's chief economist. She says it's good news for buyers that we are starting 2019 with a much higher frequency of price drops than in the past few years. Buyers should be excited, too, that other markets not in the top 10 are also seeing home prices dropping more often.
"Many of the areas with the largest share of price drops have been at high levels for a while," says Fairweather. "But there are some metros where price drops are on the rise and much more common than they were a year ago.
Case in point: Markets with the largest year-over-year rise in the share of homes for sale with a price drop are Las Vegas (+13.6 points); Seattle (+12.8 points); and Albuquerque (+12.2 points).
Why are home prices dropping?
Chuck Biskobing, associate attorney at Atlanta's Cook & James, says there are a few reasons why home prices are falling in key markets.
"Interest rates are down somewhat over the last few months. But they're still higher than they have been for the past few years," says Biskobing.
Plus, we've seen several years of large price gains in many markets.
"Higher rates and higher prices make home affordability harder. To bring buyers into the market, either wages need to rise, prices need to fall, or rates need to drop. Wages and rates are outside a seller's control," Biskobing notes. "But today many sellers don't mind taking a small price cut to get their home sold."
Also, inventory of homes for sale has been growing.
"More homes for sale means more competition for sellers. Lowering your price becomes a key way to stand out from other homes for sale," adds Biskobing.
What this means for prospective buyers
These conditions add up to one crucial takeaway.
"Home buyers now have a better chance of winning a home," Fairweather says.
But it could also result in more buyer competition as the weather heats up.
"Home sales have already rebounded in March," cautions Fairweather. "That trend may continue now that the market is more balanced."
Still, buyers should feel a little less hurried.
"When home prices go up quickly, buyers feel like they are forced to move fast and purchase before prices rise even more. Now, home prices are growing slower than inflation. That means there really isn't much downside to taking your time to shop for a home," adds Fairweather.
Biskobing's advice is simple.
"If you need a home and it's even slightly cheaper to buy than it was six months ago, then now is a good time to purchase," he says.
Your next moves
Home prices dropping should be a strong incentive to take action. Yet it's important to prepare properly before buying. Try these tips:
Take stock of your financial house. "Begin with a full review of your finances, net worth, and earning potential," says Fairweather.
Begin shopping for a mortgage. "Get preapproved for a loan as soon as you can so you know what you can afford," Fairweather suggests.
Choose a trusted real estate agent. "Meet with a reputable agent early in the process. Create a plan and know exactly what you're aiming for in terms of location, amenities and other factors that matter most to you," Fairweather says.
Research your desired neighborhood carefully. "You need to know what stands out as a deal in the neighborhood you're shopping in so you can move on it," says Biskobing.
Verify your new rate (Apr 4th, 2019)Original Article Posted at : https://themortgagereports.com/48801/home-prices-dropping-10-markets-where-you-can-save-on-a-home-purchase