Mortgage rates today, April 2, 2019, plus lock recommendations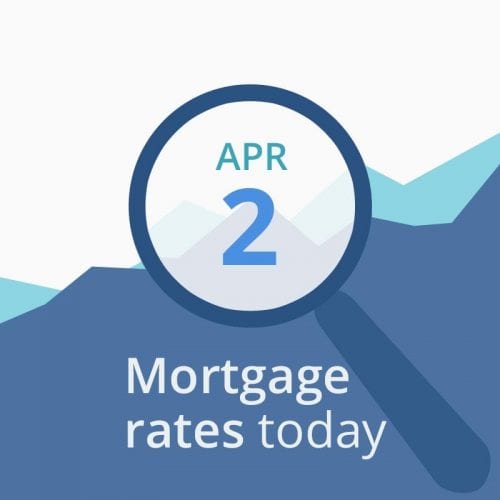 What's driving current mortgage rates?
Average mortgage rates rose again yesterday, as we predicted. However, they moved up much more sharply than expected. It was a bad day.
Markets yesterday were seized with optimism. Good economic data from China set the tone for the day and that was fueled by better-than-expected numbers for American manufacturing and construction. Given that recent domestic economic data has been decidedly mixed, it may prove hard to maintain such extreme cheerfulness for long.
Indeed, the data below the rate table are indicative of mortgage rates holding steady or maybe just inching up today. However, regular readers will know these morning snapshots are intended as helpful guides rather than bullet-proof forecasts.

» MORE: Check Today's Rates from Top Lenders (April 2, 2019)
Program
Rate
APR*
Change
Conventional 30 yr Fixed
4.5
4.511
+0.09%
Conventional 15 yr Fixed
4
4.019
+0.04%
Conventional 5 yr ARM
4.125
4.653
-0.06%
30 year fixed FHA
3.75
4.738
+0.06%
15 year fixed FHA
3.625
4.575
+0.06%
5 year ARM FHA
3.688
5.11
-0.06%
30 year fixed VA
3.87
4.045
+0.06%
15 year fixed VA
3.75
4.063
+0.06%
5 year ARM VA
3.875
4.388
-0.04%
Your rate might be different. Click here for a personalized rate quote. See our rate assumptions here.
Financial data affecting today's mortgage rates
First thing this morning, markets looked set to deliver unchanged or slightly higher mortgage rates. By approaching 10:00 a.m. (ET), the data, compared with this time yesterday, were:
Major stock indexes were all very slightly lower soon after opening (good for mortgage rates). When investors are buying shares they're often selling bonds, which pushes prices of Treasuries down and increases yields. See below for a detailed explanation
Gold prices edged down to $1,294 from $1,300. (Bad for mortgage rates.) In general, it's better for rates when gold rises, and worse when gold falls. Gold tends to rise when investors worry about the economy. And worried investors tend to push rates lower)
Oil prices inched up to $62 from $61 a barrel (bad for mortgage rates because energy prices play a large role in creating inflation)
The yield on 10-year Treasuries rose to 2.49 percent from 2.47 percent. (bad for borrowers). More than any other market, mortgage rates tend to follow these particular Treasury yields
CNNMoney's Fear & Greed Index rose to 57 from 53 out of a possible 100. Today's movement is bad for borrowers. "Greedy" investors push bond prices down (and interest rates up) as they leave the bond market and move into stocks, while "fearful" investors do the opposite. So lower readings are better than higher ones
Most of those indicators were just gently drifting this morning. And, absent some other stimulus, they suggest a relatively quiet day for mortgage rates.

Verify your new rate (April 2, 2019)
Rate lock recommendation
Even after yesterday's sharp rise, it's still way too early to call recent increases in mortgage rates a "bounce." Yes, they're on their way up after sustained falls. But those increases could still turn out to be mere blips in a longer downward trend. Frustrating though it is, there really is no way of knowing immediately what a handful of days mean in the wider context.
Trends in markets never last forever. And, even within a long-term one, there will be ups and downs. At some point, enough investors decide to cut losses or take profits to form a critical mass. And then they'll buy or sell in ways that end that trend. That's going to happen with mortgage rates. Nobody knows when or how sharply the trend will reverse. But it will. That might not be wildly helpful but you need to bear it in mind. Floating always comes with some risk
Of course, it's possible the Federal Reserve's last statement has established a long-term downward trend. But you can still expect to see rises and falls within it as other risk factors emerge and recede. And, depending on how near you are to your closing date, you may not have time to ride out any increases.
Inverted bond yield curve
You may have read about the recent inversion of the bond yield curve. And you may understandably have chosen to skip over that bit. But the jargon hides a simple phenomenon: Yields on short-term U.S. Treasury bonds are currently higher than those for long-term ones. And that's highly unusual. Normally, you get a higher return the longer you're locked into an investment.
The problem is, inverted bond yields have come to be seen as harbingers of economic gloom. Last week, CNBC noted: "The U.S. Treasury yield curve has inverted before each recession in the past 50 years and has only offered a false signal just once in that time, according to data from Reuters."
Also last week, CNBC ran a different article under the headline, "The bond market has been spooked and so the big interest rate slide is likely not over." Let's hope that turns out to be correct and that the last few business days were just blips.
Of course, a recession couldn't, by definition, arise before you close. But the more investors suspect there's one on the horizon, the lower mortgage rates are likely to go. And concerns are real. Last Friday, the Comerica Economic Weekly newsletter said, "U.S. economic growth cooled through the fourth quarter of last year, and continued to cool into the first quarter of this year." And, on the same day, McKinsey & Company published its Economic Conditions Snapshot for March. And it said its survey's respondents "report an overall wary economic outlook and are increasingly concerned over trade."
Brexit threat
Brexit is Britain's leaving of the European Union (EU). It was first due to leave last Friday but managed to negotiate a last-minute extension to April 12.
Yesterday, the British Parliament voted on another series of alternative scenarios. But it couldn't find a single one that could command a majority. Prime Minister Theresa May is determined to pass her own preferred withdrawal agreement. However, Parliament has already rejected that three times, once delivering the biggest government defeat in history. Still, Mrs. May says she'll bring it back for a fourth vote.
If that is eventually enacted, a further extension into May (the month, not the prime minister) will automatically kick in to smooth the necessary administrative processes. If Parliament declines to pass that deal for the fourth time, the UK will have to settle on one of two choices.
First, it can crash out without any agreement and hope to trade under World Trade Organization rules. This is the so-called no-deal option. Nearly all economists and most businesspeople think that would be a monumental folly that would cause immeasurable economic self-harm. Or, secondly, it can request a much longer extension (maybe one or two years) during which it can negotiate a new withdrawal agreement — or hold a second referendum or general election to break the political deadlock.
If British politicians eventually find a sensible way forward, that would be good news for the global economy and might see mortgage rates rise. However, if the country crashes out of the EU with no deal in less than two weeks, mortgage rates could dip even further.
China threat
Meanwhile, markets are increasingly focused on current U.S.-China trade talks. U.S. Treasury Secretary Steven Mnuchin and Trade Representative Robert Lighthizer were in China last week to push toward an agreement. And a similarly high-level Chinese delegation is expected in Washington D.C. sometime this week for further negotiations. That is the first time a text might be unveiled. However, one expert told CNBC last week that he didn't expect to see a draft before May or June.
Still, the administration continues to be generally upbeat about progress. However, others see potential problems. The President's original Mar. 1 deadline for an agreement passed more than a month ago. But both sides badly need a good outcome, and for similar reasons: First, to burnish political prestige domestically by bringing home a win. And secondly, to step back from economic slowdowns.
However, markets worry those pressures will prevent a win-win conclusion — and might even result in no deal being reached or a lose-lose one. Once the talks end, investors will digest the outcome in detail. If no deal is concluded, or if the one that's agreed turns out to be worse than neutral for the U.S., expect mortgage rates to tumble even further. But, if it's a win-win — or even just not too terrible and simply brings uncertainty to an end — they could rise.
We suggest
The last Fed announcements will likely add some downward pressure on mortgage rates in coming months. As we've seen in recent days, that doesn't mean there aren't other risks (currently known and unknown) that could see them rise, possibly sharply. And those recent rises create new grounds for caution. So we now suggest that you lock if you're less than 30 days from closing. Don't be surprised if we change that to 45 days sometime soon. Of course, financially conservative borrowers might want to lock immediately, regardless of when they're due to close. On the other hand, risk takers might prefer to bide their time.
Only you can decide on the level of risk with which you're personally comfortable. If you are still floating, do remain vigilant right up until you lock. Continue to watch key markets and news cycles closely. In particular, look out for stories that might affect the performance of the American economy. As a very general rule, good news tends to push mortgage rates up, while bad drags them down.

When to lock anyway
You may wish to lock your loan anyway if you are buying a home and have a higher debt-to-income ratio than most. Indeed, you should be more inclined to lock because any rises in rates could kill your mortgage approval. If you're refinancing, that's less critical and you may be able to gamble and float.
If your closing is weeks or months away, the decision to lock or float becomes complicated. Obviously, if you know rates are rising, you want to lock in as soon as possible. However, the longer your lock, the higher your upfront costs. On the flip side, if a higher rate would wipe out your mortgage approval, you'll probably want to lock in even if it costs more.
If you're still floating, stay in close contact with your lender, and keep an eye on markets. I recommend:
LOCK

if closing in

7

days

LOCK

if closing in

15

days

LOCK

if closing in

30

days

FLOAT

if closing in

45

days

FLOAT

if closing in

60

days
» MORE: Show Me Today's Rates (April 2, 2019)
This week
It's another busy week for economic reports. In particular, markets are likely to be sensitive to this Friday's official employment situation report. However, any publication can move those markets if it contains sufficiently shocking numbers.

This morning's headline number for orders for durable goods was far from impressive but better than expected.

Forecasts matter
Markets tend to price in analysts' consensus forecasts (we use those reported by MarketWatch or Bain) in advance of the publication of reports. So it's usually the difference between the actual reported numbers and the forecast that has the greatest effect. That means even an extreme difference between actuals for the previous reporting period and this one can have little immediate impact, providing that difference is expected and has been factored in ahead. Although there are exceptions, you can usually expect downward pressure on mortgage rates from worse-than-expected figures and upward on better ones.
Monday: February retail sales (actual -0.2 percent; forecast +0.3 percent); Institute of Supply Management (ISM) manufacturing index for March (actual 55.3 percent; forecast 54.6 percent); February construction spending (actual +1.00 percent; forecast -0.1 percent)

Tuesday: February durable goods orders (actual -1.6

percent; forecast -2.0 percent)

Wednesday: ISM nonmanufacturing index for March (forecast 58.3 percent)

Thursday: Nothing

Friday: March employment situation report, including nonfarm payrolls (forecast +173,000); unemployment rate (forecast 3.8 percent); and average hourly earnings (forecast +0.2 percent)

MarketWatch's economic calendar remains (yes, really) slightly chaotic in the wake of the recent government shutdown. Some numbers published this week are for earlier periods than would normally be the case, and others are still being delayed.
What causes rates to rise and fall?
Mortgage interest rates depend a great deal on the expectations of investors. Good economic news tends to be bad for interest rates because an active economy raises concerns about inflation. Inflation causes fixed-income investments like bonds to lose value, and that causes their yields (another way of saying interest rates) to increase.
For example, suppose that two years ago, you bought a $1,000 bond paying 5 percent interest ($50) each year. (This is called its "coupon rate" or "par rate" because you paid $1,000 for a $1,000 bond, and because its interest rate equals the rate stated on the bond — in this case, 5 percent).
Your interest rate: $50 annual interest / $1,000 = 5.0%
When rates fall
That's a pretty good rate today, so lots of investors want to buy it from you. You can sell your $1,000 bond for $1,200. The buyer gets the same $50 a year in interest that you were getting. It's still 5 percent of the $1,000 coupon. However, because he paid more for the bond, his return is lower.
Your buyer's interest rate: $50 annual interest / $1,200 = 4.2%
The buyer gets an interest rate, or yield, of only 4.2 percent. And that's why, when demand for bonds increases and bond prices go up, interest rates go down.
When rates rise
However, when the economy heats up, the potential for inflation makes bonds less appealing. With fewer people wanting to buy bonds, their prices decrease, and then interest rates go up.
Imagine that you have your $1,000 bond, but you can't sell it for $1,000 because unemployment has dropped and stock prices are soaring. You end up getting $700. The buyer gets the same $50 a year in interest, but the yield looks like this:
$50 annual interest / $700 = 7.1%
The buyer's interest rate is now slightly more than seven percent. Interest rates and yields are not mysterious. You calculate them with simple math.
Show Me Today's Rates (April 2, 2019)
Mortgage rate methodology
The Mortgage Reports receives rates based on selected criteria from multiple lending partners each day. We arrive at an average rate and APR for each loan type to display in our chart. Because we average an array of rates, it gives you a better idea of what you might find in the marketplace. Furthermore, we average rates for the same loan types. For example, FHA fixed with FHA fixed. The end result is a good snapshot of daily rates and how they change over time.
Original Article Posted at : https://themortgagereports.com/49307/mortgage-rates-today-april-01-2019-plus-lock-recommendations