Mortgage rates today, February 28, 2019, plus lock recommendations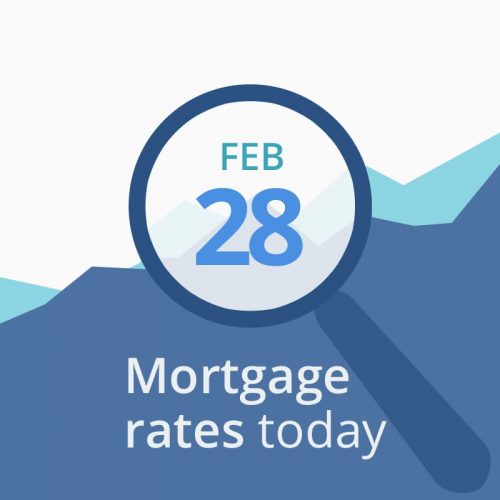 What's driving current mortgage rates?
As we predicted, average mortgage rates rose yesterday — and not by the smallest measurable amount for a change. They instead went up by the second-smallest measurable amount. So they remain stuck within a very narrow range, as they have been since Valentine's day. And markets were far from volatile before that.
This morning's all-important gross domestic product (GDP) figure was considerably higher than expected. However, some key markets failed to respond to the news, suggesting it wasn't enough to stir investors. And, first thing, there looked to be little else on the 24-hour horizon that would likely move mortgage rates far. Tomorrow's publication of an avalanche of economic reports might just be enough to give markets momentum. But, judging from recent performance, it may be a mistake to hold your breath.
The data below the rate table are mostly indicative of slightly higher rates in the short-term.
» MORE: Check Today's Rates from Top Lenders (February 28, 2019)
Program
Rate
APR*
Change
Conventional 30 yr Fixed
4.625
4.636
+0.04%
Conventional 15 yr Fixed
4.167
4.186
+0.08%
Conventional 5 yr ARM
4.25
4.804
-0.01%
30 year fixed FHA
3.933
4.922
+0.06%
15 year fixed FHA
3.688
4.638
Unchanged
5 year ARM FHA
3.875
5.28
+0.01%
30 year fixed VA
4.455
4.649
Unchanged
15 year fixed VA
3.875
4.189
+0.06%
5 year ARM VA
4
4.535
+0.01%
Your rate might be different. Click here for a personalized rate quote. See our rate assumptions here.
Financial data affecting today's mortgage rates
So far, this morning seems uncannily similar to yesterday at the same time. Earlier, today's market data were mostly bad for mortgage rates, suggesting those rates might move up over the next 24 hours — but probably only by a bit. By approaching 10:00 a.m. (ET), the data, compared with this time yesterday, were:
Major stock indexes were mixed soon after opening with little sense of direction (neutral for mortgage rates)
Gold prices eased down again, standing at $1,318 an ounce compared to yesterday's $1,327. (This is bad for mortgage rates. In general, it's better for rates when gold rises, and worse when gold falls. Gold tends to rise when investors worry about the economy. And worried investors tend to push rates lower)
Oil prices held steady at $57 a barrel (neutral for mortgage rates because energy prices play a large role in creating inflation)
The yield on ten-year Treasuries edged up to 2.71 percent, compared to yesterday's 2.68 percent. That's bad for borrowers because mortgage rates tend to follow Treasuries
 CNNMoney's Fear & Greed Index put on two points to reach 72 out of a possible 100. So it strays even further into "greed" territory. This is bad for borrowers. "Greedy" investors push bond prices down (and interest rates up) as they leave the bond market and move into stocks, while "fearful" investors do the opposite. So lower readings are better than higher ones
All those "bad" indicators are less worrying than they look. The actual movements behind them remain small.
Verify your new rate (February 28, 2019)
Rate lock recommendation
Some movement in markets would break the monotony. But we should be careful what we wish for. Right now, mortgage rates are close to recent lows. And, when they eventually break out from their tight range (which can't be too far off), they're as likely to go up as down.
Having said that, there seems to be a preponderance of bad-news stories at the moment. With a few exceptions, recent economic data have been uninspiring at best. Two nuclear powers, India and Pakistan, began shooting down each other's military aircraft this week, and were still exchanging cross-border rifle fire and mortar shells overnight, the BBC reports. The U.S.-North Korea summit ended in failure yesterday. Meanwhile, presidential trade advisor Robert Lighthizer went to Capitol Hill, also yesterday, to tell lawmakers "I'm not going to say it's perfect," referring to the current state of U.S.-China trade talks. And, finally, this morning's New York Times reported, "A rising share of economists expect a recession in 2020 if not sooner."
What's going on this morning?
This morning's delayed release of GDP number for the fourth quarter of 2018 (Q4 2018) far exceeded expectations. Yes, it was way down on the third quarter's growth of +3.4 percent. But economists had seen that slowing in the rate of growth coming. Indeed, their consensus forecast, according to MarketWatch, was for +1.9 percent in Q4. And markets had already adjusted their prices to reflect that forecast.
So how come the good news wasn't reflected in markets, including those that determine mortgage rates? Perhaps the response is just slow, and momentum will build through the day. In that case, expect a somewhat bigger increase in mortgage rates than currently looks likely. Or perhaps the "preponderance of bad-news stories" described above is causing a sense of gloom that's killing optimism.
If the news that finally awakens markets is good, expect mortgage rates to rise. If it's bad, expect them to fall. Of course, that is a very general rule, which comes with no guarantees.
All this means that, if you're still floating, you must stay vigilant. Some movement, sometime in coming days or weeks, is inevitable. And the longer markets sleep, the sharper and swifter their response might be when they finally wake up. So continue to watch key markets and news cycles closely. In particular, look out for stories that might impact the performance of the American economy.

When to lock anyway
You may wish to lock your loan anyway if you are buying a home and have a higher debt-to-income ratio than most. Indeed, you should be more inclined to lock because any rises in rates could kill your mortgage approval. If you're refinancing, that's less critical and you may be able to gamble and float.
If your closing is weeks or months away, the decision to lock or float becomes complicated. Obviously, if you know rates are rising, you want to lock in as soon as possible. However, the longer your lock, the higher your upfront costs. On the flip side, if a higher rate would wipe out your mortgage approval, you'll probably want to lock in even if it costs more.
If you're still floating, stay in close contact with your lender, and keep an eye on markets. I recommend:
LOCK

if closing in

7

days

LOCK

if closing in

15

days

FLOAT

 if closing in

30

days

FLOAT

if closing in

45

days

FLOAT

 if closing in

60

days
» MORE: Show Me Today's Rates (February 28, 2019)
This week
MarketWatch's economic calendar remains slightly chaotic in the wake of the recent government shutdown. Some numbers published this week are for earlier periods than would normally be the case, and others are still being delayed.
GDP may be the brightest star in the constellation of economic data, but others shine, too. And, there are some luminous ones among the five economic reports due out tomorrow morning. Maybe they'll contain a surprise that will finally put some life into markets.
Monday: Nothing
Tuesday: December housing starts (actual 1.078 million annualized; forecast 1.256 million units) and February consumer confidence index (actual 131.4; forecast 124.7)
Wednesday: December advance international trade in goods (actual deficit -$79.5 billion; forecast -$74 billion) and December factory orders (actual +0.1 percent; forecast +0.6 percent)

Thursday: weekly jobless claims (actual 225,000; 223,000 forecast), GDP for Q4 2018 (actual 2.6 percent; forecast +1.9 percent)

Friday: personal income for both December and January (forecast +0.4 percent and +0.3 percent respectively), December consumer spending (forecast -0.3 percent), December core inflation (forecast +0.2 percent), Institute for Supply Management (ISM) manufacturing index for February (forecast 53 percent), February consumer sentiment index (forecast 95.5)
What causes rates to rise and fall?
Mortgage interest rates depend a great deal on the expectations of investors. Good economic news tends to be bad for interest rates because an active economy raises concerns about inflation. Inflation causes fixed-income investments like bonds to lose value, and that causes their yields (another way of saying interest rates) to increase.
For example, suppose that two years ago, you bought a $1,000 bond paying 5 percent interest ($50) each year. (This is called its "coupon rate" or "par rate" because you paid $1,000 for a $1,000 bond, and because its interest rate equals the rate stated on the bond — in this case, 5 percent).
Your interest rate: $50 annual interest / $1,000 = 5.0%
When rates fall
That's a pretty good rate today, so lots of investors want to buy it from you. You can sell your $1,000 bond for $1,200. The buyer gets the same $50 a year in interest that you were getting. It's still 5 percent of the $1,000 coupon. However, because he paid more for the bond, his return is lower.
Your buyer's interest rate: $50 annual interest / $1,200 = 4.2%
The buyer gets an interest rate, or yield, of only 4.2 percent. And that's why, when demand for bonds increases and bond prices go up, interest rates go down.
When rates rise
However, when the economy heats up, the potential for inflation makes bonds less appealing. With fewer people wanting to buy bonds, their prices decrease, and then interest rates go up.
Imagine that you have your $1,000 bond, but you can't sell it for $1,000 because unemployment has dropped and stock prices are soaring. You end up getting $700. The buyer gets the same $50 a year in interest, but the yield looks like this:
$50 annual interest / $700 = 7.1%
The buyer's interest rate is now slightly more than seven percent. Interest rates and yields are not mysterious. You calculate them with simple math.
Show Me Today's Rates (February 28, 2019)
Mortgage rate methodology
The Mortgage Reports receives rates based on selected criteria from multiple lending partners each day. We arrive at an average rate and APR for each loan type to display in our chart. Because we average an array of rates, it gives you a better idea of what you might find in the marketplace. Furthermore, we average rates for the same loan types. For example, FHA fixed with FHA fixed. The end result is a good snapshot of daily rates and how they change over time.
Original Article Posted at : https://themortgagereports.com/48419/mortgage-rates-today-february-28-2019-plus-lock-recommendations